With 700 islands in The Commonwealth of the Bahamas dotting the aquamarine waters on the northwestern edge of the West Indies north of Cuba – where does a luxury rental yacht adventure begin? Bahamas charter yacht vacations will most often originate in the country's capital city of Nassau, located on the northern island of New Providence. We can think of no better place to begin your exploration of all things Bahamian. Not only do U.S. and International air flights fly right into Lynden Pindling International Airport (LPIA), but New Providence offers an enticing variety of anchor points and well-maintained marinas, plus the attractions of Nassau and the alluring Paradise Island!
Where shall we venture first? The incredible Atlantis Resort & Marina in Paradise Island is a popular yacht charter launch spot. Atlantis offers opportunities galore including its Aquaventure water park, where you can enjoy water slides and wave pools beyond imagination, and experience the magical Paradise Lagoon, with its seven acres of possibilities to snorkel, ride paddleboats and more. Swim with the dolphins or stingrays at Dolphin Cay, one of the world's largest made-made marine mammal habitats. Other water attractions include the intriguing Shark Wall dive site and Runway Wall site in Nassau, popular for reef shark encounters and stunning underwater beauty waiting for scuba divers of all certification levels.
Atlantis also boasts a casino equal to any in the world, plus the Ocean Club golf course, while Nassau is known for its Royal Blue course and the Albany Golf Club. Let's not forget the incomparable pristine beaches during your Nassau rental yacht stop. Powdery sand (choose pink or white!) on 17 beaches will draw you in with promised relaxation. Don't miss Rose Island, Cable Beach or Cabbage Beach, plus many other secluded beaches.
Nassau almost always has an event, celebration or shopping experience waiting for you and your charter cruise guests – from The Art Walk at Atlantis every Saturday, to a festival or fair, to the famous Nassau Straw Market which offers unique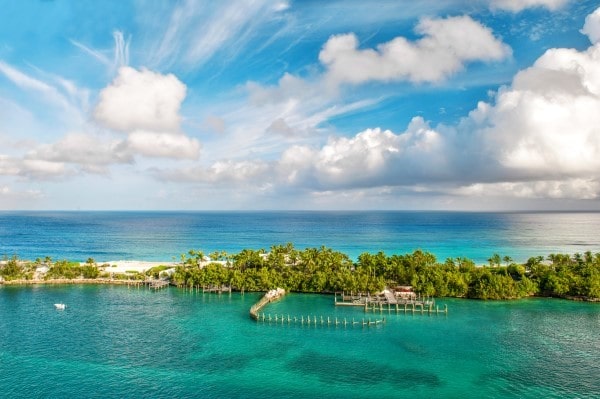 and tempting hand-woven baskets, bags, hats and more.
Lastly, be sure to enjoy the sumptuous restaurants and colorful nightlife as you explore Bahamas Nassau and Paradise Island. There is every reason to choose these signature locations as the welcoming gateway to your yacht charter voyage through the Bahamas.