Gather your friends and family and charter a rental yacht to Barbados, the most easterly island found in the Lesser Antilles chain of islands in the Southern Caribbean. The island of Barbados is around 167 square miles in size. A British colony from 1625 until its independence in 1966, Barbados had a fantastic economy that was based on slavery and the sugar trade. However, Barbados was one of the first British Caribbean islands to abolish slavery, leading the way to emancipation in 1838.
This exotic Caribbean island has become a hot spot for luxury charter yachts since the country improved the mooring facilities to cater to cruising liners for island hopping experiences.
After visiting the islands of St. Lucia or St Vincent and heading east, you'll arrive at the northwest coast of Barbados, where you'll find Port St. Charles, with its stunning villas and world-class private yacht charter facilities.
Directly next to the port, you'll find Heywoods Beach, where you'll enjoy staggering views of the oceans, and beautiful golden sands. 
Across the coastline to the north and south, you'll find exquisite restaurants that can cater to any taste.
If you venture to the south of the port, Arlington House Museum awaits your arrival. The restored 18th century, three-story building is a pleasure to visit with its interactive exhibits and audiovisuals that teach the storied history of Barbados.
At the center of the island, you'll discover a host of activities. Check out Welchman Hall Gully, a tropical forest in the middle of the Caribbean jungle. Take treks around the nature preserves, explore caves, and even catch a glimpse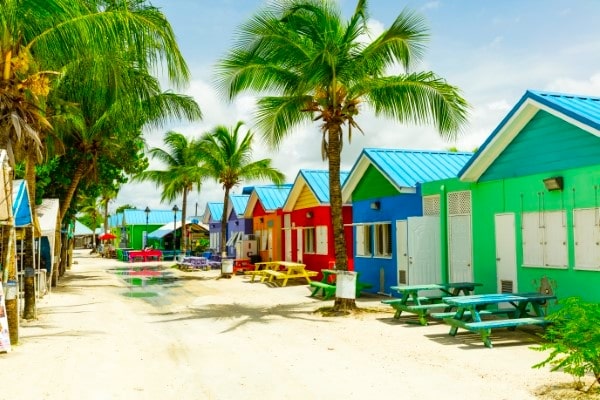 of the preserve's wild green monkeys during feeding time.
Ready for another adventure in Barbados? Then follow the road south to Harrison's Cave Eco-Adventure Park, where you can explore natural caves in all their glory and relax in the pools and streams nearby.
As you make your way down to Bridgetown – the capital of Barbados and an active port – be sure to immerse yourself in the delights of Careenage, which has a fish market overlooking Carlise Bay, beckoning you to pick up some fresh fish. 
Bridgetown is one of the oldest cities in the Caribbean. Heroes Square, which was formerly named Trafalgar Square, was erected long before the famous Trafalgar Square in London, which should give you an idea of just how old it is.
Around Heroes Square, you'll also find the best shopping locations in the whole of Barbados, from luxury clothes to stunning jewelry shops.
In Bridgetown you'll also find the Blackwoods Screw Dock, an engineering marvel in its day which now offers a great place to wander around and learn about its history followed by a drink at the Blackwoods Bar. 
You can enjoy the nearby beach, or relax for a day of fishing, snorkeling, or diving.
Other opportunities to enjoy Barbados from your charter yacht include stops at Silver Sands Beach at the southern tip, or the more eastern beaches of Crane Beach, Bath Beach, and Walker's Beach, as you circle the island.
Barbados may be tiny, but this stunning Caribbean island comes equipped with a host of luxury shopping, well-equipped marinas, and varied historical sites. Be sure to include this not-to-be-missed gem on your Caribbean yacht charter vacation.