Located in the Lesser Antilles in the north of the Caribbean Sea, the British Virgin Islands are known for their dazzling reef-lined beaches, diverse diving sites, and excellent yachting and sailing. The archipelago is situated on the eastern side of the Leeward Island chain, with close to 50 miles of serene coastline. A cruise around the islands will give you stunning views of their rolling hills, low mountains, coral reefs, and mesmerizing lagoons. Four out of the total of 36 islands are large, with others being much smaller. Only 16 of these are inhabited, and total approximately 22,000 people.
Cruises among the British Virgin Islands typically originate at the Road Town port on Tortola, the largest island in the region. Located on the west edge of Tortola is Smuggler's Beach, which features turquoise waters, almond trees, and sea grapes. You can also snorkel along coral reefs here. The Apple Bay hosts some of the Caribbean's best surf breaks (also where it gets its nickname "the Surfing Beach"). Bomba's Shack, located here, is a great bar to catch a drink afterward. The palm-fringed Lambert Beach on the east is perfect for relaxing on soft white sand, and you can go snorkeling, swimming, and paddleboarding in the sheltered Cane Garden Bay. 
Other marinas in Tortola include Fort Burt Marina, Village Cay Marina, and Nanny Cay.
Another rugged gem of the area is Jost Van Dyke, a popular anchorage with gorgeous stretches of sand. Here, you can swim to the Soggy Dollar for cocktails (be sure to try their famous "Painkiller") or visit the Bubbly Pool on the eastern end. Changing the course of your luxury rental yacht towards Virgin Gorda will reveal even more magical exploration for your private charter. Sail to the Baths and play among magnificent boulders and rock pools. Nearby is Trellis Bay, featuring Aragorn's Studio artisan market, and don't miss the Trellis Bay Full Moon parties if you visit during the full moon!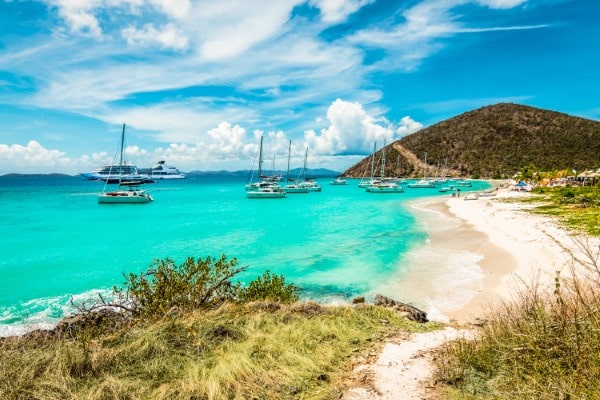 Just across the bay is Marina Cay, offering moorings and an outdoor patio ideal for an alfresco lunch.
Another spot you can't miss during your yacht charter is Cooper Island. With an anchorage at Manchioneel Bay and the Cooper Island Beach Club (offering a restaurant, rum bar, boutique, and more), you'll have plenty to do here.  The 11-mile long Anegada Island is a chartering paradise with flamingo-occupied salt ponds. Here, you can snorkel at Loblolly Bay, devour delicious food at Anegada Lobster and have a cocktail at Big Bamboo. Other islands to explore include Norman Island, Great Thatch, Necker Island,
and Ginger Island where you'll find laid-back serenity, beautiful vistas, and various water-based activities.
A Caribbean charter cruise of the British Virgin Islands promises a fun-filled experience with warm temperatures, mouthwatering cuisines, tropical settings, and plenty of enticing things to do!