Grenada, St. Vincent, and Grenadines
A part of the Windward Islands, St. Vincent and the Grenadines form a laid-back, tropical slice of paradise that preserves the classic Caribbean charm for tourists to experience and enjoy. With family-run stores, traditional farmers' markets, vibrant watering holes, and an incredible 84 kilometers of coastline, this region is a unique yacht charter destination. St. Vincent and the Grenadines feature a string of 32 volcanic islands stretching towards Grenada in the South, with palm-lined bays and white sand beaches.
Grenada, also known as 'Spice Isle' because of its world-famous spices, has vibrant coastal towns and numerous nutmeg plantations. It lies between the Caribbean Sea and the Atlantic Ocean, and is home to the world's first underwater sculpture park.
Cruising through the region's turquoise waters will make for a magical yacht charter with lots of sightseeing and plenty of activities. Start by sailing from the Blue Lagoon Marina in St. Vincent. Yachting around the island will give you beautiful views of lush green mountains and the best of the Caribbean's beauty.
Then cruise towards Bequia, known for its deserted beaches, disappearing into coves that are fantastic for snorkeling and scuba diving. Admiralty Bay is Bequia's main harbor. Here, you'll find food markets, hotels, boutiques, bars, and restaurants. Cruising on your rental yacht towards the South will take you to Friendship Bay, featuring a pristine beach and anchorage.
Next, you head to Mustique, where you can explore Petit Nevis, a palm-fringed island with an old whaling station. If you look close enough, you can even spot some of the ruins! The Firefly Restaurant here is great to pick up a meal while enjoying sunset views, and there are plenty of luxury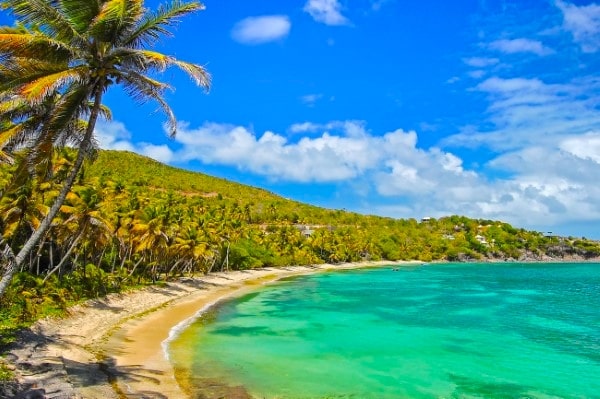 shops to explore. Continue cruising south, and the exclusive small island of Canouan will beckon with its natural beauty and secluded privacy that has appealed to many wealthy jet setters. Approximately five square miles of luxury hotels and a relatively new marina of 120 slips near the airport make travel easy. Explore the beaches, a nearby coral reef where you may encounter exotic fish and eels, or hike Mount Royal to take in island views for miles.
The five largely unspoiled islets of Tobago Cays are also a must-see during your charter yacht adventure. These are a part of Tobago Cays Marine Park that consists of a 
1400-acre lagoon and horseshoe reef. With its numerous opportunities for diving, snorkeling, and hiking, it's no surprise that it's a favorite among yachtsmen and sailors. If you cruise here, be sure to have a pair of binoculars on hand to see the winged beauties at the Catholic Rock Bird Sanctuary nearby!
A short yacht ride south is Chatham Bay, featuring a vast anchorage, waterfront eatery, and turtle sanctuary. Seckie and Vanessa's restaurant is just on the shore, serving delicious meals followed by dancing on the sand. Next, sail by Clifton Harbor towards Carriacou, an island with 200 rum shops.
After exploring Tyrrel Bay with its full-service marina, continue your cruise towards Grenada. Here, you can explore the 2-mile long Grand Anse Beach featuring high-end boutiques, spas, and numerous watersports. You can also go wreck diving (Grenada is home to the most wreck dives in the Caribbean!). The Seven Sister Falls in the Etang National Park are worth hiking to, and a tour of Belmont Estate is guaranteed to satisfy your inner history geek.
Satisfy your thirst for exquisite Caribbean yachting experiences on your private charter from St. Vincent and the Grenadines to Grenada!