The US Virgin Islands, a Caribbean territory of the United States and part of the Leeward Islands group, are located in the Caribbean Sea to the east of Puerto Rico. The main islands of St. Thomas, St. John, and St. Croix, as well as many of the smaller islands, are known for their white sand beaches, steady winds, a multitude of bays and coves, and plenty of watersports. There's surely no better way to experience the best of this ideal cruising destination than by chartering a yacht, sailing from island to island, and anchoring at points of interest! English is the official language of the USVI, and the official currency is the US dollar.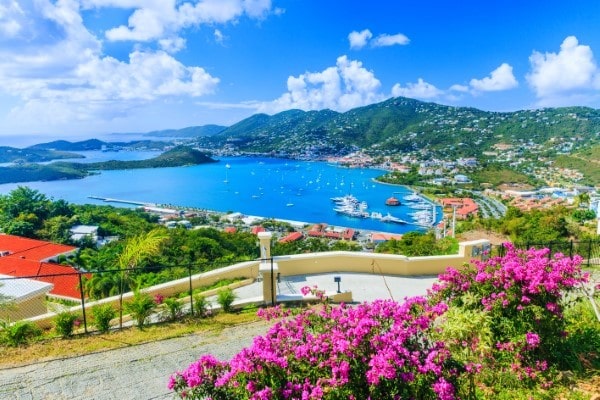 St. Thomas is the most well-known island of the USVI's, occupying 32 square miles, and is home to most of the territory's population (42,261 people). The capital city, Charlotte Amalie, has the St. Thomas Harbor where you can moor your rental yacht and explore the island. The Skyride Tram to the peak of Paradise Point is a thrilling experience ending at panoramic vistas, and The 99 Steps built in the 18th century are a historic site to climb rugged terrain.
Additionally, the marina of Yacht Haven Grande and Dronningens Gade feature high-end, duty-free shops, while Mahogany Run Golf Course is great to play a round of golf. There are also numerous opportunities for watersports. 
You can go diving at the wreck dive of Wit Shoal II and snorkeling at the Coki Point Beach, which features a reef. If you're looking for a good kayaking spot, head towards the Magens Bay Beach or Secret Harbor, while the Sapphire Beach is perfect for windsurfing.
10 nautical miles to the east of Caribbean St. Thomas lies the laid-back island of St. John. Anchor your charter yacht at Maho Bay, and go paddleboarding or devour hors d'oeuvres while watching turtles. Whistling Cay and Mary's Point towards the north are ideal for guided snorkeling tours, while the Annaberg Ruins, a short yacht ride from Watermelon Cay, is a fascinating sugar plantation.
The Honeymoon Beach a bit to the southwest is just as charming as it sounds!
Walking up to Murphy's Mansion is another experience worth adding to your private yacht charter. Lobster hunting is great at Newfound Bay, and Coral Bay is a quaint town featuring lots of restaurants and shops. You can also hike on Ram Head Trail for stunning views of another off-the-beaten-path island that is worth chartering towards: St. Croix.
Known for its world-class scuba diving and fishing, St. Croix lies 38 nautical miles south of St. John. Moor your rental yacht in Christiansted Harbour and watch the sunset at Point Udall. 
The nearby Buck Island is perfect for snorkeling with sea turtles, and the Buck Island Reef National Monument can't be missed! Mooring and anchoring areas include Chenay Bay, Frederiksted Harbor, Green Cay Marina, and Salt River Marina.
With stunning landscapes, unspoiled beauty, and fantastic luxury yacht rentals, you can experience cosmopolitan luxury and Caribbean charm like never before on your private charter through the US Virgin Islands!