We are delighted to provide you with some of the finest luxury yachts available for charter. The below is only a small sample of available yachts. If you don't see what you are looking for please contact us. We have access to over 3,000 luxury yachts and our brokers will be delighted to help you find a yacht of your dreams!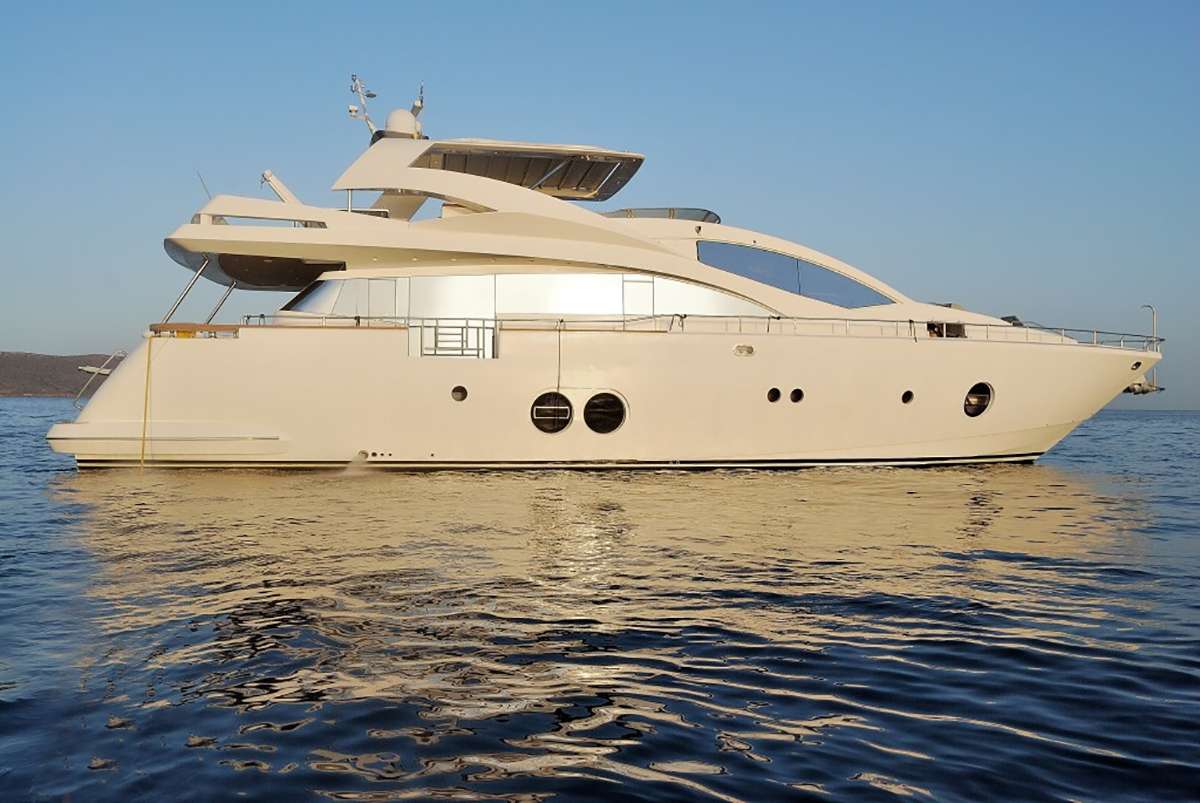 FUNSEA is a stunning AICON 90 flybridge Motor Yacht, with impressive sleek lines and an elegant interior. Built-in 2010 by AICON S.P.A. shipyard and refitted in 2020, is one of the most modern and stylish charter yachts in Greece. Based in Athens or Mykonos is available for charters in the stunning Greek islands and coasts of Cyclades, Saronic & Argolic Gulfs, Sporades, Dodecanese, Peloponnese or Ionio.

KEY FEATURES:
• Total Refit 2021 – Like brand new!
• One of the MOST MODERN yachts in the market, with IMPRESSIVE interior & exterior DESIGN.
• JACUZZI (rectangular) on the sundeck
• STABILIZERS Zero Speed & Underway (NAIAD), offering excellent cruising performance & exceptional stability and comfort at anchor.
• JET SKI, SEA BOB, FLOATING PLATFORM & a large variety of toys
• HARD TOP on the sundeck, with automatically opening canvas roof.
• Option to be chartered either with 4 cabins (8-10 guests) or with 5 cabins (10-12 guests)
• Option for 5 DOUBLE cabins in the 5 cabins version (the Master is separated to two Doubles & the two Twins are convertible to two Doubles)
• Almost the SAME SIZE OF CABINS in the 5 cabins version
• One of the most AFFORDABLE 5 cabs / 12 guests motor yachts in the market
• Roof to Floor WINDOW in-salon and large windows all over offering stunning views
• 4 LARGE circular WINDOWS (opening) in the Master cabin & 2 large circular (opening) windows in the VIP cabin
• LATEST TECHNOLOGY Audio Visual Equipment (all-new 2021).
• Large OPENING SWIMMING PLATFORM
• Foldable electric TREADMILL & Gym Equipment (FREE on request ONLY prior to booking)
• Conveniently based in LAVRIO (Athens- South Attica) which is much closer to Cyclades (only 30 min from Kea) than all other marinas of Greece and at the same distance from Saronic
• The ONLY 5 cabins yacht in Greece (under 35m) with JACUZZI pool on deck and STABILIZERS Zero Speed & Underway and one of the very few 4 cabins with all the above.
• 2 X BARS (1 in the salon + 1 on sundeck)
• Day Head on the main deck.
Accommodations:
FUNSEA is offered either with a 4 cabins version or with a 5 cabins version*:
In the 4 cabins version, the spacious full beam amidships Master cabin has 2 en suite bathrooms and a King bed.
In the 5 cabins version, the Master cabin is divided to 2 Double cabins or to 2 Single cabins or to 1 Single + 1 Double cabin. Each cabin has an en suite bathroom and independent entrance.
All other cabins remain the same in both versions:
• One VIP cabin, with en suite bathroom
• Two Twin cabins, which can be converted to Doubles with King beds. Each of the Twin cabins has one Pullman berth and an en suite bathroom.

- Separate Crew quarters with Crew galley & independent entrance (bow)
- Day head on main deck
Bed Dimensions

4 cabins version:
Master Cabin 180 X 200 cm
VIP Cabin 180 X 200 cm

Twin Cabin A':
Bed A' : 78 X 194 cm / Bed B' : 75 X 194 cm
Twin cabin when converted to double: 214 X 194 cm

Twin Cabin B'
Bed A': 81 X 194 cm / Bed B' : 72 X 194 cm
Twin cabin when converted to double: 206 X 194 cm
——-
5 cabins version:

Double Cabin Portside: 160 X 200 cm
Double cabin starboard side: 158 x 200 cm
VIP Cabin 180 X 200 cm

Twin Cabin A': Bed A' : 78 X 194 cm / Bed B' : 75 X 194 cm
Twin cabin when converted to double: 214 X 194 cm

Twin Cabin B'
Bed A': 81 X 194 cm / Bed B' : 72 X 1954 cm
Twin cabin when converted to double: 206 X 194 cm

* The number of cabins and guests has to be agreed BEFORE booking
Tropicalboat Charters, Inc