You've planned a luxury yacht charter vacation! Yes, you! Can you believe it? It's all you can think about, and though it may be months away, it is not too soon to begin planning. Of course your route and all of the intriguing sites and destinations you'll see will be the dreamy part of planning – just imagine those photos and memories! But to insure that you have a flawless experience on your private charter, part of that planning should be deciding what to take with you. It's not too early to designate a spare bedroom (or two?) to begin laying out your packing plan, while leaving time to reconsider, remove and recheck your list.
Clothing
Let's start with your yachting wardrobe. First, it's time to plunder your closet for what you already have that will work. And may we recommend – try it on? See how you feel in it. Because everyone knows – if you feel good, you look good! Next, using the list below, make notes on what you will need to buy to supplement your clothing essentials.
1. Casual Clothing
For daytime, you'll want shorts, tops and shirts in soft fabrics – cotton is always a great choice. Bring light colored clothing for coolness, and above all, be comfortable. For the ladies, bring a couple of cute summer dresses, which are always right for alfresco lunches on board or off, or for shopping.
2. Swimwear
Whether you're into bikinis or board shorts, you'll want several choices of swimwear on your luxury charter. You may need to change during the day from wet to dry swimwear, so bring several choices –luckily, they don't take up much room! Ladies, pack a couple of swim cover ups as well, whether they are skirts or sarongs or a super cute beach dress.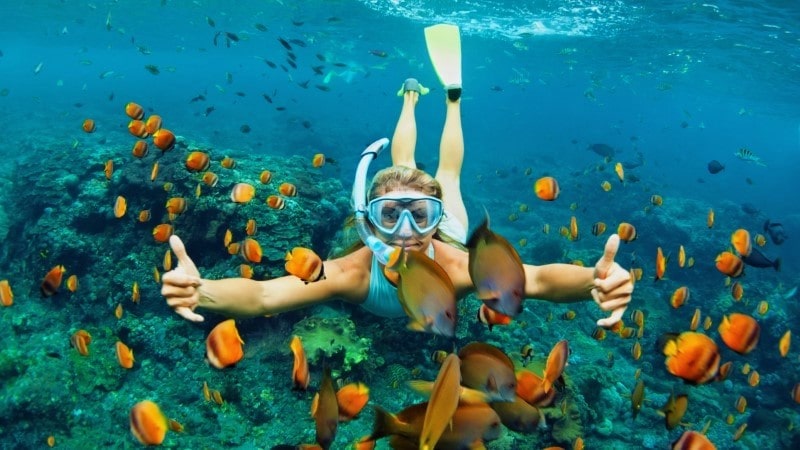 3. Elegant Clothing 
Now that you've mapped out your casual looks, choose some more elegant clothing for evening time on your luxury yacht. Whether you visit a trendy restaurant or have a special dinner in your yacht's formal dining room, it's nice to dress up after a day on the water. Sport jackets or button shirts for guys, cocktail or long dresses for girls.
4. Shoes
There is something you may not know about your fancy high-end yacht. These vessels and their crew take great precautions to keep the flooring free from nicks and scratches so it always looks pristine. This means no high heels on board (not to mention that if you are cruising, you may not be stable in high heels.) Shoes that leave dark marks are also prohibited, so you may wish to purchase some new, white-soled shoes (think boat shoes) that will not leave a mark. The best on-board footwear is either your new boat shoes, no shoes, water shoes, rubber-soled flipflops or comfortable socks. Have a few light-weight options. Are heels a must-have? Carry them off the boat before putting them on.
5. Recommended Extras
Bring a variety of hats. Baseball caps while cruising can keep the sun off your face, but large brimmed sunhats are great for sunbathing or shopping. Be prepared – your hat could blow off while you are coursing the waves, so make sure you have a backup. Another addition is inexpensive, colorful, fun jewelry that takes your look to the next level. Lastly, bring a light sweater in a neutral color, along with some comfy sweatpants for on board at night when the coolness of evening sets in.
Health Supplies
You'll be away from home and a drug store will not always be convenient, so be sure to consider all of these handy products and supplies to tuck into your luggage.  Travel size is smart.
1. Lip balm
The wind on your face may be what dreams are made of, but with that can come dry, chapped lips, not to mention the sun's effect.  Have you ever played that game where you name three things you would want to have if stranded on a desert island? Lip balm! (The other two are up to you!)
2. Sunscreen
Your rental yacht may have sunscreen available for you, but it's best to bring your own…and don't be skimpy on the SPF. You'll be glad for high protection from the sun on the high seas. Also slip in a bottle of sunburn cream, just in case.
3. Medications
Pack prescription medication plus remedies for pain, colds and allergies, and anything else you need regularly that may be over-the-counter, like vitamins.
4. Seasick Prevention
Seasick tablets or seasick bracelets are hugely important whether you think you need them or not. You don't want to miss the views OR ruin the trip for others!  Also just a hint from experience – going below deck when you are feeling seasick is not the answer. It is better to stay on top!
Accessories
Beyond clothes and beyond personal products, there are a few packable accessories.
1. Sunglasses
Polarized, please. Bring more than one pair, because you may misplace them. You could even use a basic pair on board and a snazzy cool style for dining at a waterfront outdoor restaurant. Protect them from the salt.
2. Waterproof watch
Going snorkeling or swimming from the yacht? Even if you don't wear your watch in the water, you will still experience plenty of ocean spray that takes you by surprise as your yacht takes to the waves. Wear at timepiece that can stand the elements.
3. Exercise gear
Depending on your vessel, you may find a gym on board that has all you need to maintain your swim-worthy physique during your trip. But if not, you may wish to pack light things like exercise bands or a yogamat. You know you'll feel better if you keep up those reps!
4. Recommended Extras
Ear plugs. Yes. You're thinking you will enjoy the lilting sound of the waves, right? But in actuality, there are all kinds of unfamiliar sounds on a yacht from the engine noise to water lapping the sides that may keep you from sleeping. Also, throw in some ziplock bags. You may need one for a wet swimsuit, or as a handy stash for snacks.
Luggage
Space is at a premium in your luxury stateroom. Even with closets and storage, a hard-sided suitcase is hard to store. Bring soft-sided luggage that you folds away easily, or even duffle bags. Consider one of those surprisingly roomy bags that you can bring folded but unfold later to bring home souvenirs. Backpacks are also handy for souvenirs or your personal entertainment items.
Entertainment
Speaking of entertainment, a few personal items can make your charter more pleasant.
1. Reading material
Pack a couple of good books (the paper kind), or a kindle with pre-loaded books of your favorite genre. Maybe you also enjoy wordsearch puzzles, crossword books or Sudoku. Bring a paperback you won't mind getting wet, or leaving behind.
2. Cell phone
You'll want your cell phone for everything from snapping photos to connecting with your charter mates. Remember a few accessories including a waterproof case and protective plastic bag, your phone charger, earplugs, and a fully charged powerbank. You may want to set up playlists before your trip.
3. Glare-proof screens
How many times have you gone to the beach only to realize you can't see your phone or iPad screen? Invest in glare-proof screens for your electronics.
4. Snorkel equipment
Masks and snorkels may not be provided by the boat due to COVID-19. Bring your own if you plan to snorkel.
5. Camera
You have your phone, but what about a real camera? It may be worth it to bring a real camera with a waterproof case, or even an underwater camera. Don't forget the camera batteries!
Paperwork and Payment
1. Cash
Research the local currency and gather some before you leave. You can visit a currency exchange later, but it is always handy to have some cash upon arrival. Bring a reliable credit card or two, and bring photocopies of your credit cards, packed in a different pocket.
2. Charter Contract
Bring a copy of your signed yacht rental contract. Have it all in one place with the address of your boarding location, contact information for your charter company and for your crew. Here's where that ziplock bag may come in handy.
3. Plane tickets and travel documents
Don't leave home without your plane tickets. Put them in your packing room and don't move them from their spot until you pack.  Same with your passport or visa, driver's license or photo ID. One last word of caution: don't overpack. Be realistic about how much you really need to change clothes and shoes. It all depends on your preference and how you will be spending your time. You will be grateful when you have less to worry about.
Along with the incredible sites, food and fun you'll have as you revel in your exciting luxury yacht charter, be confident that you have packed everything you need to navigate your vacation in comfort and style.